At Utica Chiropractic Clinic we recognize that your choice of physician is driven both by the doctor's competency and personality. With chiropractic problems, you need a Chiropractic Physician who is experienced, understanding and supportive. You'll get this caring attitude from all the members of our team every day. We all will work together as a team to insure responsiveness to your needs and keep you informed about your health issues. We treat our patients like family and look forward to building a relationship with you.
Dr. Mark Cohen, DC
Dr. Jessica Cohen, DC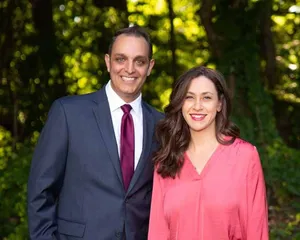 Dr. Mark Cohen grew up in Farmington Hills, MI and graduated from Wayne State University with a Bachelor of Science in Biological Science. Mark always felt an inclination towards healthcare and taking care of people, which led him to pursue chiropractic as a career choice. He then continued his education at Life College of Chiropractic (Atlanta, GA) where he focused his studies on the treatment and rehabilitation of low back injuries. Dr. Cohen specializes in sports injury management, acute low back cases and neurologic and muscular disorders. He is honored to be serving the greater Macomb area with high quality healthcare in a comfortable and caring environment.
Awards: Hour Detroit's Top Chiropractor 2022, 2021, 2010
Certifications/Techniques: Cox Flexion Distraction Technique, Diversified/Full Spine, Thompson, Activator, Sacro-Occipital and Extremity adjusting.
Memberships: American Chiropractic Association(ACA), Michigan Association of Chiropractors(MAC), Sterling Heights Regional Chamber of Commerce(SHRCCI), Kiwanis Club of Utica-Shelby Township.
Doctor Cohen's Published Research:
Reduction in Cervical Anterolisthesis & Pain in a 52-Year-Old Female Using Chiropractic Biophysics Technique: A Case Study and Selective Review of Literature
Dr. Jessica Cohen's passion for chiropractic began in Boston, Massachusetts. Growing up as the daughter of two chiropractors, she developed a fascination for the profession and its philosophy of natural healing. After receiving her bachelor's degree from the University of Vermont, her love of chiropractic led her to Life University in Atlanta, GA where she graduated Cum Laude. Dr. Jessica has studied and trained in a multitude of chiropractic techniques including a focus on care for special populations including the elderly, pregnant and an associateship in one of the US's busiest pediatric practices. Dr. Jessica holds a certification in the administration of Webster Technique, a protocol used to help expectant women obtain balance in their pelvis by reducing stress on the uterus and surrounding tissues allowing for a safer birth. She has since settled in the beautiful state of Michigan, with her husband Dr. Mark Cohen, where she is excited to provide safe and evidence-based chiropractic care to the community. In her free time, Dr. Jessica enjoys hiking, cooking and yoga.
Awards: Hour Detroit's Top Chiropractor 2022, 2021, 2020
Certifications/Techniques: Webster Technique(ICPA), Pediatric/Pregnancy adjusting, Cox Flexion Distraction Technique, Diversified/Full-Spine, Activator, Sacro-Occipital Technique(SOT) and extremity adjusting.
Memberships: International Chiropractic Pediatric Association(ICPA), Michigan Association of Chirorpractors(MAC), Sterling Heights Regional Chamber of Commerce(SHRCCI), Kiwanis Club of Utica-Shelby Township.
Elizabeth - Billing Coordinator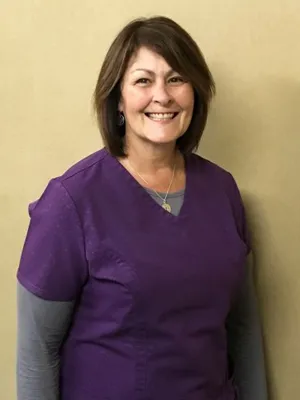 Elizabeth has been the backbone of chiropractic offices for many years providing great service and working with insurance companies and with patients to understand their benefits and resolve financial matters. Elizabeth lives by the motto that "healthy living is a balance between spiritual, emotional and physical fitness."
Laurie Willoughby - Massage Therapist
Laurie, our licensed massage therapist(LMT), underwent her education at Irene's Myomassology Institute. Laurie approaches her patients with the mindset of providing therapeutic massage and structural integration.With over 30 years of experience, Laurie carries a deep understanding of how the different soft tissue and fascial systems affect neighboring systems. Having joined the team in 2013, Laurie has developed a reputation as a problem solver, helping to improve the quality of life for those she encounters. Laurie has been married to her husband, Greg, for 35 years and has two daughters and four beautiful grandchildren. Laurie's interests include spending time with her family and nearly anything Disney.
Allison Montoya - Massage Therapist
Allison has been a massage therapist for 8 years and has recently relocated from New Mexico with her husband and two dogs to be closer to family. A proponent of Neuromuscular Therapy, Allison uses posture analysis and trigger point therapy to treat her clients. She "loves finding out the root of her patient's problems, which sometimes entails working on hips, necks, and shoulders because of their complexity and impact on the musculoskeletal health of her patients." Through this intense analysis, Allison is able to determine what is going on with her patients and then implement a relieving and corrective strategy to help their bodies function at optimal levels. By treating the underlying origins of these issues she is able to help her patients obtain permanent resolution rather than short term, symptomatic relief.