Our Services
---
In The Sterritt Office Plaza
Comfort and convenience are the hallmarks of The Utica Chiropractic Clinic office operations. To ensure your convenience, below is information regarding our hours, location, appointment scheduling, insurance and billing.
Utica Chiropractic Clinic, P.C.
45200 Sterritt St Suite 102
Utica, Michigan 48317
Phone: 586-739-6080
Fax: 586-739-2797
Monday:
09:00 AM - 07:00 PM
Tuesday:
9:00 AM - 2:00 PM
Wednesday:
08:00 AM - 07:00 PM
Thursday:
Closed
Friday:
09:00 AM - 06:00 PM
Saturday:
8:30 AM- 12:00 PM
(every other Saturday, by appointment only)
Conveniently located at M-59 & M-53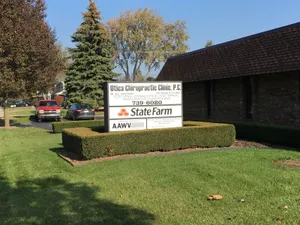 Accepted Insurance Carriers
Medicare
Blue Cross Blue Shield Traditional
Blue Cross Blue Shield Community Blue
Blue Care Network (requires referral from primary care physician)
Multiplan/PHCS
Priority Health
MASS
United Health Care
Preferred Health Plan
HAP Senior Plus
HAP HealthChoice
First Health Network (an Aetna affiliation)
Alliance Health & Life Insurance Co.
All Workers Compensation Insurances
All Auto insurance carriers
We also participate with several discounts programs. If you are unsure as to whether or not your insurance company covers chiropractic care, feel free to contact us and we will research and explain your benefits to you.
Payment Options
Payment for all chiropractic services is expected at the time of your appointment. We accept payment with MasterCard, VISA, Discover and American Express, Apple and Samsung Pay, as well as personal checks. When applicable, we accept insurance coverage from leading private insurance carriers.
Appointment Scheduling
You may call our receptionist during business hours or leave a message.
Facilities and Equipment
Our office is designed for your comfort and safety. From our digital X-ray machine to our Cox Technique tables, we utilize cutting edge technology and equipment to solve your problems. Both Dr. Mark Cohen and Dr. Jessica Cohen specialize in the use of Cox Technique, a highly effective non-surgical approach to spinal care, which supplements the more standard chiropractic techniques we use in the office. Dr. Jessica Cohen further specializes in pre-natal, pregnancy, pediatric and geriatric techniques ensuring your family's health during the most vulnerable periods of your life.